Back
Markforged Introduces Fine Features For 17-4PH Stainless Steel on Metal X System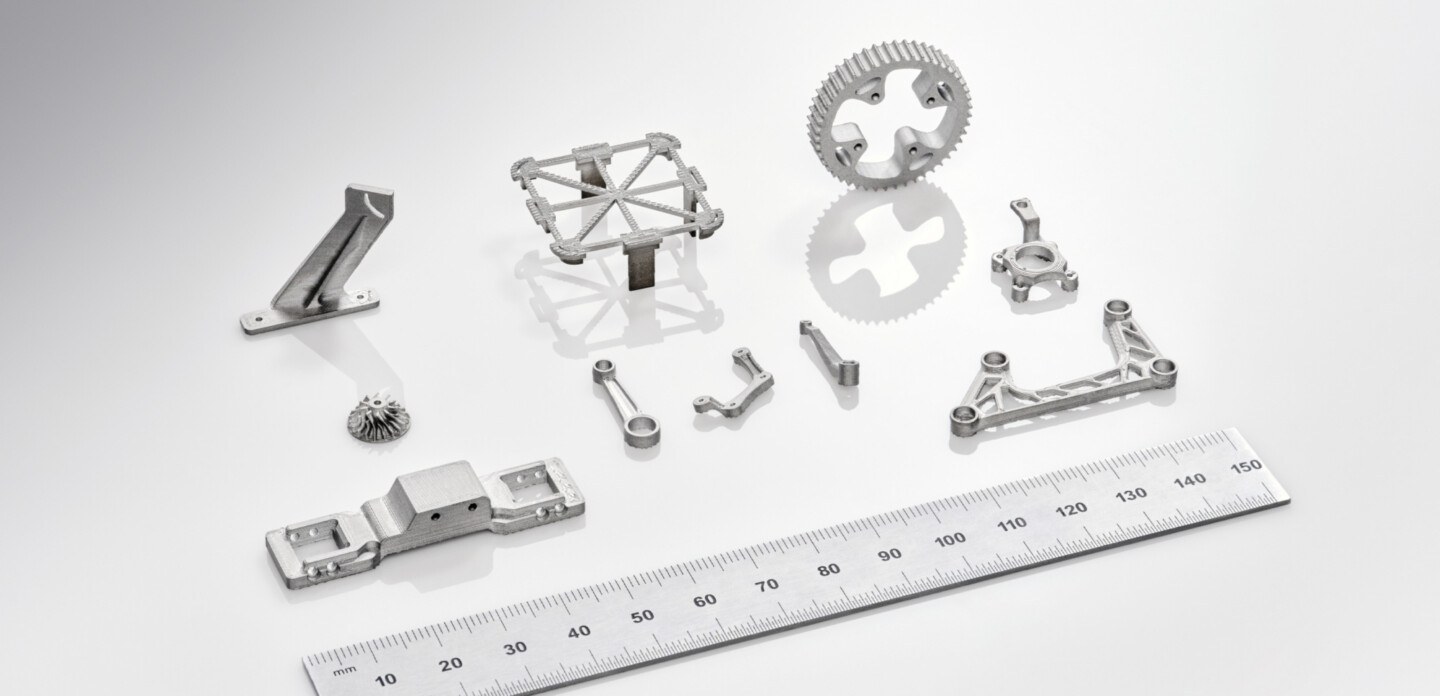 Published on : 25 August, 2023
In the summer of 2022, Markforged launched a new formulation of 17-4PH Stainless Steel on the Metal X System, one of the most popular 3D printing metal materials. 17-4PH v2 is simpler to handle than their previous formulation, comes in larger spools, and prints more consistently. It also produces somewhat stronger components with enhanced isotropic properties.

Also, Markforged introduces two new print modes to the Metal X System's 3D printing: Fine Features for precision in small details and Turbo Mode for faster component printing.

These new features are being added without needing any changes to the nozzle or other parts of the hardware. People who use the system online will automatically get these new abilities through updates from the internet. On the other hand, those who use the system offline will get these improvements as part of their regular software update every three months. will have this capability added to their machine automatically.

Earlier this year, Markforged added a new feature called Fine Features for Copper to their Metal X printer. This printer uses a method called Metal FFF (fused filament fabrication) and is good at printing with pure Copper. This is impressive because Copper is usually difficult to work with in other types of 3D printing and cutting processes. The Fine Features feature for Copper makes it possible to create even more things that conduct electricity because many parts need small detailed features.

Markforged has introduced a new way to print using their 17-4PH v2 Stainless Steel material. This special mode is called Fine Features and it's available in Eiger, which is the software they use. When you choose this mode, the items you print will have a very smooth finish and be very accurate in size. You can also make smaller details in your prints. The trade-off is that it takes longer to print this way. This mode is useful for two main reasons:
It makes parts with small details look much better. These parts might have had issues before, but now they will come out nice.
You can create new parts with small details that you couldn't make using the old settings.
Turbo Mode makes metal fabrication faster than ever
In 2019, Markforged introduced something called Turbo Mode for their Industrial Series composite 3D printers. This was done to make 3D printing faster and help clients develop things more quickly. Some people think that printing fast can make the quality of things worse, but Markforged found a way to make things faster without compromising on how strong and smooth they are. This means you can print things faster without sacrificing their quality.

Now, Turbo Mode is an additional way to print using the 17-4PH v2 material. You can choose this mode in Eiger, and it makes things faster by using thicker layers. Unlike Fine Features, which focuses on detailed prints, Turbo Mode is all about speed. With Turbo Mode, you can print things made of 17-4PH v2 Stainless Steel much faster than before, even though the quality and detail might not be as high. On average, Turbo Mode prints things 35% quicker than the usual mode, but for some items, the speed boost can be even greater.

Using Turbo Mode can speed up how many things you can print with a Metal X System, especially when you use a 1/1/1 Print/Wash/Sinter setup. This way, the printing process can match the faster washing and sintering steps, keeping the workflow smooth and efficient.

You can use Turbo Mode with either Standard or Solid infill. When using Turbo Mode, you'll be printing at a layer height of 0.2 mm, and after the sintering process, the value becomes 0.17 mm. To print a part using Turbo Mode for Stainless Steel, simply choose "0.17 (Turbo)" from the layer height options in Eiger.
Markforged Metal X System
The Metal X System stands out as one of the most comprehensive and advanced 3D printing systems, tailored for creating functional metal parts. In contrast to other methods of metal 3D printing, this system offers a heightened level of safety, affordability, and user-friendliness. Its innovative design and technology have paved the way for a new era in metal part production.

One of the most impressive features of the Metal X System is its rapid production capabilities. The system's innovative design and optimized printing processes enable the creation of complex industrial parts in remarkably short timeframes. This expedited production timeline, sometimes as quick as a single day, revolutionizes the manufacturing landscape, enabling industries to respond swiftly to changing demands and design iterations.

In simple terms, the Metal X System is changing how we use 3D printing for metal. As industries grow and look for new ideas, the Metal X System stands out as a really good way to 3D print metal parts. Chemtron Pte Ltd has brought the Metal X System to many industries in Southeast Asia. They're the official reseller of Markforged products, and they've helped a lot of people use this new system successfully. If you have any queries or comments you can reach out to our team of experts.
3D printing pure Copper and other materials on the Metal X
Would you like to learn more about Fine Features for Copper? Click here to get in touch with a Product Specialist to discuss the Copper Fine Features Design Guide.
Download the Free Report on How COVID-19 has Impacted Supply Chains
Gain key insights including: COVID-19 pandemic impact on business. 3D printing use during the health pandemic. Challenges facing manufacturers using incumbent technology. Future plans for investing in additive manufacturing. And more...
Get the report