Back
Enhancing carbon fiber reinforcement to reduce production time and costs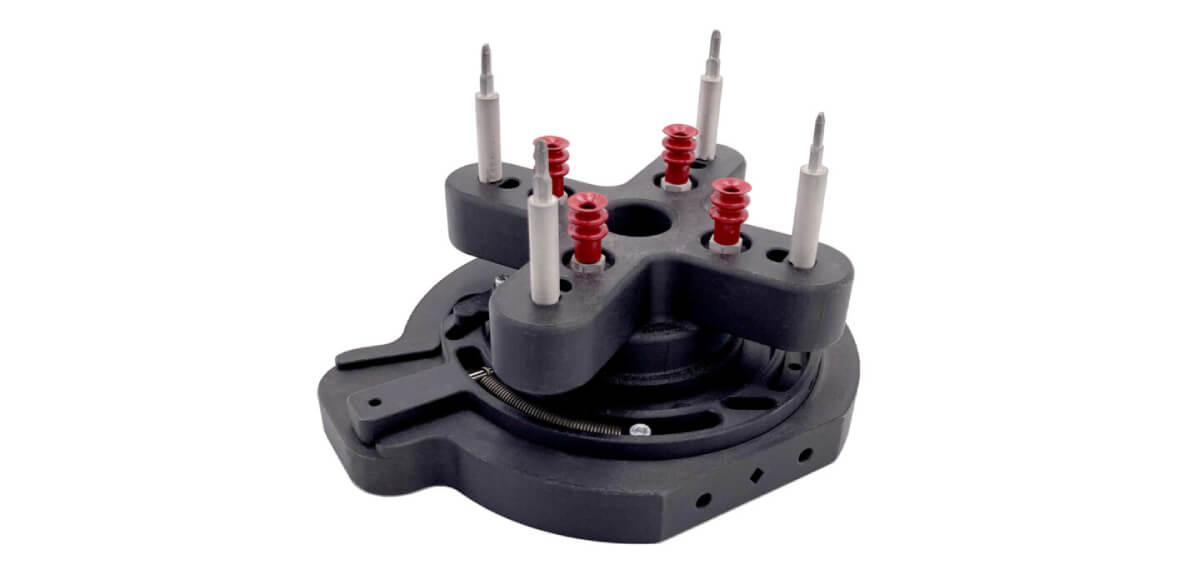 Published on : 11 August, 2023
The Customer
Founded in 2007 as a technical office, McService has swiftly expanded its reach. Through strategic investments in automation and new technology, the company is dedicated to providing imaginative solutions that offer a competitive edge to clients. Innovation is the driving force behind their comprehensive assistance for technical offices during the design phase and their turnkey solutions for automation and industrial production of varying complexities.
The Challenge
McService specializes in designing in-house automation systems while outsourcing the manufacturing of mechanical components. The process includes system assembly and final testing. With rising consumer demands for swift and adaptable responses, controlling manufacturing time and costs becomes crucial to attaining enhanced flexibility. It was in 2019 at a trade show when Lorenzo, the General Manager of McService, first encountered Markforged. Recognizing its potential, he saw the opportunity to expedite the in-house production of final machinery components.
"I'd say Markforged's 3D printing platform for composite materials was the first technology to guarantee the production of components with the appropriate mechanical properties for our machines. The high precision of the 3D printed parts and being able to share models easily, make Markforged a tool every designer in a technical office should use."
- Lorenzo Montaguti, Founder and General Manager, McService
The Solution
McService prides itself on being a trustworthy company and expects the same of its partners. "We partnered with Markforged to manage the production of high-performance finished components without needing to invest in specialized technical personnel, seamlessly bridging design and production," explains Lorenzo Montaguti.

The initial idea was to bring previously outsourced stages of production, back in-house.

Early 3D prints included templates for machines and custom components for specialized machinery.

"The X7 printer meets all our requirements," continues Lorenzo, "and part after part we've become more and more familiar with continuous fiber reinforcement, discovering more of its benefits as we go."

McService has gone through an impressive transformation. They've upgraded components that used to be made of metal by incorporating carbon fiber reinforcement, which has improved their mechanical qualities. This change has also led to better ergonomics, customized to match what clients need, while also opening up new design possibilities. At the same time, by combining plastic materials and additive technology, they've been able to shorten production times and cut costs. This puts McService in a strong position to outperform its competitors.

"In addition to the time and cost savings, and streamlining the supply chain, the printer lets you be more creative and designers can explore new solutions. The ability to quickly test and validate parts inspires you to develop innovative products as the process becomes more straightforward, and we can guarantee the greatest efficiency for the end customer" adds Lorenzo.

And he concludes:"In some technically critical situations, thanks to Markforged technology we were able to provide a quick, cost-effective response. The finished solution was designed and printed in just a few hours, compared to the days that would have been required using traditional manufacturing processes, with supplier lead times that we obviously can't control. Design is also more streamlined as we can make multiple versions of the same part and immediately evaluate the best option."
The Future
McService has undergone a notable transformation by cultivating skills in designing for additive manufacturing. They have successfully addressed previous constraints and enhanced part optimization through the integration of CFR technology. They now emphasize careful attention to detail by implementing comprehensive process control. Additionally, McService has seamlessly integrated efficient 3D printing into its design methodology, playing a vital role in its ongoing progress within this domain.

Lorenzo explains his vision of the future: "The future is pushing us to make ever greater investments in new design skills, freeing us from the constraints imposed by traditional manufacturing processes, so we can make parts that are not only functionally superior but also aesthetically pleasing. This enables McService to increase its production volume of additive components, while maintaining high and consistent quality standards, with the aim of expanding its fleet of Markforged printers."
Conclusion
In the field of mechanical manufacturing, there is a constant drive to meet specific requirements by finding customized solutions. The goal is to automate processes and bring everything together seamlessly. To succeed in the global market, businesses need to get rid of inefficiencies by using specialized machinery in their production. McService, in partnership with Markforged, is prepared to create customized production setups based on what clients need. This includes complete solutions, technical assistance, and even research and development support.
Download the Free Report on How COVID-19 has Impacted Supply Chains
Gain key insights including: COVID-19 pandemic impact on business. 3D printing use during the health pandemic. Challenges facing manufacturers using incumbent technology. Future plans for investing in additive manufacturing. And more...
Get the report