Back
Revolutionizing Efficiency: Zero Tolerance's Journey with 3D Printing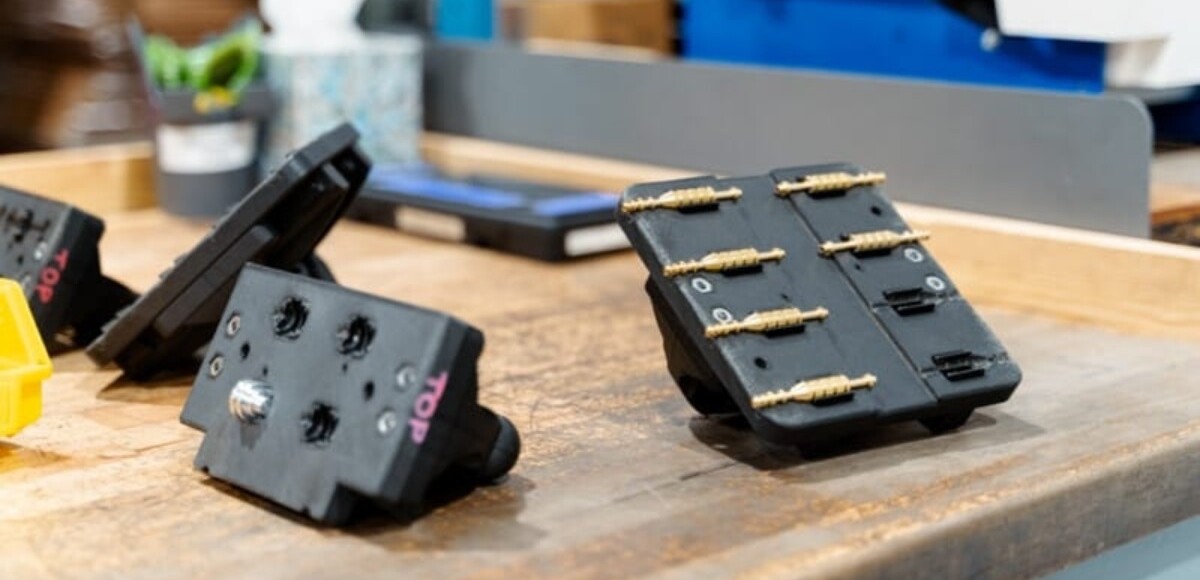 Published on : 02 June, 2023
"My advice to other machine shops is to try it. You will be amazed how useful additive manufacturing can be. We're so happy we did."
– Steve Michon, President and Owner of Zero Tolerance, LLC
The Customer
Zero Tolerance, LLC, a Michigan-based plastic injection mold machine shop, has consistently strived to stay ahead of the curve in providing top-notch solutions to its customers in various industries. In 2011, they embarked on a remarkable journey that led them to embrace the power of 3D printing technology. With the opportunity to receive a Markforged X7 3D printer through Project DIAMOnD, Zero Tolerance unlocked a new world of possibilities and revolutionized their manufacturing processes.
The Challenge
One of the key challenges faced by Zero Tolerance was the time-consuming and hazardous process of manually loading brass inserts into a high-temperature mold. This labour-intensive method resulted in inconsistent cycle times and hindered efficient part production. While considering robotic automation, cost feasibility posed a concern. However, they had a breakthrough idea—a concept called the "claw" that could potentially address their challenge.

"This new technology challenged us to think differently about our approach to manufacturing. We were used to removing material with subtractive manufacturing, so we had to think backwards."
The Solution
Zero Tolerance seized the opportunity to bring its "claw" concept to life using its newly acquired Markforged 3D printer. With the capability to quickly prototype and produce complex designs, they redesigned the original concept into a handheld version. The ergonomic handle and durable Onyx material ensured optimal functionality and longevity. Implementing the 3D-printed "claw" reduced cycle times by 19-20 seconds, resulting in a remarkable 50% increase in overall production. This innovation not only enhanced efficiency but also eliminated the burn hazard associated with manual loading.
The Success and Future
Zero Tolerance's foray into 3D printing didn't stop at a single success. Encouraged by their achievements, they have created multiple versions of the "claw" for different molds, expanding their in-house capabilities. Furthermore, they have extended their expertise by producing "claws" for other machine shops, cementing their reputation as an industry leader in harnessing the power of additive manufacturing. With the recent addition of the Markforged Mark Two printer, Zero Tolerance continues to prioritize technological advancements, empowering them to deliver quality products efficiently.

"Seeing the enormous impact that the 'claw' has made on our injection molding department's productivity, we are excited to explore all the capabilities additive manufacturing has to offer," says Steve Michon.

"Our goal is to increase the use of 3D printing in every aspect of our manufacturing, including 3D printing with metal."
Conclusion
Zero Tolerance's partnership with Markforged and their embrace of 3D printing technology has yielded transformative results. By leveraging the capabilities of their 3D printer, they have overcome operational challenges, streamlined their processes, and witnessed significant productivity gains. The story of Zero Tolerance is a testament to the potential of innovation and how embracing cutting-edge technology can revolutionize the manufacturing landscape. As they continue to invest in additive manufacturing, Zero Tolerance is poised to shape a future where efficiency, quality, and progress go hand in hand.
Download the Free Report on How COVID-19 has Impacted Supply Chains
Gain key insights including: COVID-19 pandemic impact on business. 3D printing use during the health pandemic. Challenges facing manufacturers using incumbent technology. Future plans for investing in additive manufacturing. And more...
Get the report